Patient Service Coordinators
Our Patient Service Coordinators are usually the first people a patient meets when he or she comes to the office. They ensure every patient's account is accurately maintained and up-to-date, while answering all questions regarding dental care services, insurance, payment arrangements, billing, and appointment scheduling. They prepare all necessary insurance forms and are always available to assist you in maximizing your insurance benefits. All of our dental insurances claims are filed electronically for timely handling and processing.
Dental Assistants / Dental Hygienists
Our clinical assistants are graduates of recognized dental assisting schools, and possess certifications in CPR and Radiology. They are committed to excellence, and take great pleasure in making patients feel comfortable and helping them with any apprehensiveness they might feel.
Eileen, Registered Dental Assistant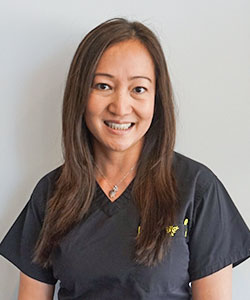 Eileen has nearly three decades of dentistry experience, and she's been with our team since 2011. She loves helping patients feel comfortable in the office and ensuring they receive the care they need to leave the office with a smile on their faces. She studied at Foothill College and the Concord Career Institute. She is also certified in CPR, OSHA regulations, infection control, and dental accounting. A native of Mountain View, Eileen loves spending time with her caring family, wine tasting, hiking, and participating in cause-oriented marathons. She has been an active member of the American Cancer Society's Relay for Life for several years.
For more information, please contact our office. Our friendly and knowledgeable team is happy to answer questions and to help you schedule a $80 non-refundable consultation with Dr. Shen.*