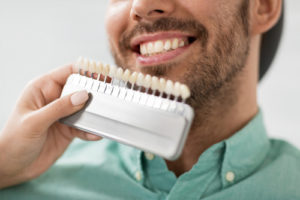 Porcelain veneers can be the beautiful, life-like solution for a multitude of cosmetic and restorative concerns. These thin layers of porcelain are shaped and attached to the visible front side of each tooth to conceal imperfections and achieve a natural look.
The best candidates for porcelain veneers have relatively healthy teeth and adequate tooth structure to support veneers. Often multiple porcelain veneers are required to get the best cosmetic result. When the porcelain veneers procedure is performed, any areas where teeth are chipped or broken must first be smoothed. Then, the front surface of each tooth is reduced slightly to accommodate the thickness of a veneer. When the porcelain veneer is bonded, it covers the tooth's cosmetic flaws to present an enhanced appearance that is ideally shaped, sized, colored, and aligned.
Alternatives to porcelain veneers include porcelain crowns and cosmetic dental bonding. Bonding can only be effectively applied to natural teeth. Dentists can bond almost any tooth that has at least 2/3 of remaining healthy tooth. Bonding material is connected to the tooth wherever it is chipped or broken. During the procedure, the tooth is cleaned and treated with an adhesive which bonds the composite resin material to the tooth. The bonding material rebuilds the tooth and is tooth-colored in appearance.
Want to learn more about the different options available for making over your smile? Contact Alpine Dental Care in Cupertino to discuss these and other cosmetic dentistry treatments. Our friendly and knowledgeable team is happy to answer questions and to help you schedule a free consultation with Dr. Shen.*