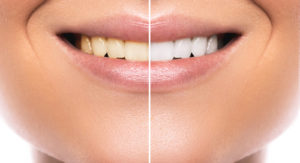 When you notice dental stains and yellowing affecting the appearance of your smile, professional teeth whitening treatments may be able to help you achieve the brighter smile you desire. At Alpine Dental Care we offer a high-performance teeth whitening system that you can use at your leisure from the comfort of your home! The Venus White® Pro can whiten smiles up to 8.4 shades. Patients also report little if any tooth sensitivity with Venus White Pro.
If you are interested in finding out if Venus White Pro can help you achieve your teeth whitening goals, we encourage you to contact our office to schedule a consultation with a cosmetic dentist at Alpine Dental Care.
What is Teeth Whitening?
Teeth whitening is a cosmetic dentistry treatment that uses bleaching agents to reduce the appearance of dental stains and yellowing for a whiter, brighter-looking smile. Through chemical reactions, professional-strength bleaching agents applied to the teeth are able to break down certain stains (with some exceptions) and give teeth a whiter look. For optimal results, repeated treatments may be required until the desired outcome is achieved. Teeth whitening treatments can be performed either in the dentist's office or at home depending on the specific method your dentist offers. At Alpine Dental Care we offer only at-home teeth whitening, while our sister practice in Mountain View features the in-office Zoom!® Teeth Whitening system.
Who Is a Candidate for Teeth Whitening?
Patients who are typically good candidates for teeth whitening are those who are experiencing external tooth discoloration caused by:
Staining foods and beverages (i.e. coffee, tea, wine, berries, etc.)
Tobacco use
Yellowing over time
It is important that the teeth and gums are healthy prior to bleaching, as cavities, worn enamel, sensitivity, periodontal disease, and other oral health concerns can be exacerbated by the whitening process. For those with deep staining caused by tetracycline or excessive fluoride, bleaching methods may not be entirely effective. Patients who are not good candidates for our teeth whitening system may benefit from another cosmetic dentistry procedure, such as porcelain veneers.
What Happens During Teeth Whitening with Venus White® Pro?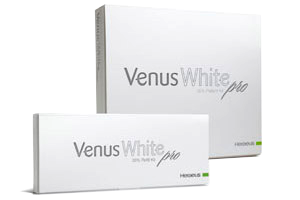 The teeth whitening process begins with the creation of your custom whitening trays. This is completed quickly in our office while you wait. When your trays are ready, your dentist will explain how to load the appropriate amount of whitening gel into the trays from the syringe. Your dentist will also discuss how long you should wear your trays and how frequently you can repeat your treatment. You will be provided with either the 16%, 22%, or 35% carbamide peroxide formula based on the condition of your teeth and your whitening goals. Once you have reached your desired level of whiteness, your whitening trays and any remaining gel can be used to perform touch-up treatments as needed. If you run out of whitening gel, you can stock up at your next dental cleaning.
What Results Can I Expect with Venus White® Pro?
A study performed by the University of Texas found that the Venus White Pro system is capable of whitening teeth up to 8.4 shades! Not all patients will reach this level of whiteness, but this is comparable to many of the in-office systems available. If you do not achieve the results you desire with the Venus White Pro, we offer Zoom! Whitening at our sister practice as well as several other cosmetic procedures (i.e. porcelain veneers, dental crowns) that can easily deliver a long-lasting, white smile. The majority of our patients are thrilled with their Venus White Pro smiles and appreciate the efficacy and versatility the at-home system offers.
How Much Does Teeth Whitening Cost?
At Alpine Dental Care the cost for teeth whitening with the Venus White Pro starter kit is $350, which includes the custom whitening trays and six tubes of whitening gel. Compared with other cosmetic procedures, teeth whitening is a very conservative and economical option for transforming you smile. If you are interested in finding out of teeth whitening is right for you, please contact our practice to schedule your free consultation with Dr. Shen.*