We know that keeping your natural teeth healthy for as long as possible is important to you. Our dentist, Dr. Donian Shen, stresses lifetime prevention as the primary means of obtaining and maintaining the perfect smile. That is why our family-friendly dental practice in Cupertino provides an extensive array of preventive dentistry services for patients of all ages. Our goal is to offer  patients the treatment, tools, and knowledge they need to maintain beautiful, healthy smiles for years to come.
Child and Adult Preventative Care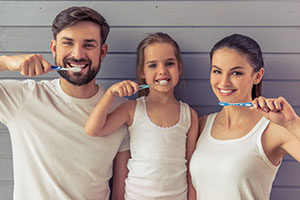 Routine dental checkups and cleanings are the critical building blocks of optimal oral health. Too many patients believe that it is only time to see the dentist when something goes wrong, such as an injury, bleeding gums, or a toothache that doesn't subside. Our team emphasizes the importance of preventive care for a number of reasons, reminding our patients that prevention is more enjoyable, less costly, and more comfortable than many of the procedures needed to treat more complex problems later.
We urge our adult patients to see us regularly (usually every 6 months), which allows us to intercept little problems early while they're still small. That is also why we like to see children as early as their third birthday, so that we can apply decay-preventing dental sealants as needed, as well as correct inappropriate growth patterns before they set the stage for more involved problems down the road.
Routine Cleanings
All adult patients are advised to return every six months for dental cleanings and then x-rays are updated yearly. Regular checkups allow us to address potential problems at the earliest warning signs, thus creating the best prognosis for any treatment procedures.
Periodontal Care and Gum Disease
Healthy gums are a critical component of good oral health. When the gums are vulnerable, inflamed, or infected due to disease, the teeth and bone tissue can also be negatively impacted. If gum disease is left untreated, extreme consequences can include bone recession and tooth loss, among others. The comprehensive periodontal care services provided at our practice are therapies and procedures aimed at: 1) preventing gum disease from developing and 2) targeting specific gingival issues to restore gum health and protect the teeth.
Digital X-Rays
To improve your care we've invested in a new way of looking into your mouth—a procedure that's fast, and incredibly precise – digital x-rays. What's even more amazing is that we get an image immediately that is large, clear, and accurate, right next to your chair…ready for discussion. Digital x-ray technology speeds and simplifies the diagnostic part of your treatment, and most importantly allows us to provide a much higher level of care.
Reduced Radiation, Radical Results
Digital x-rays use 50-90% less radiation than old-fashioned x-rays. Additional benefits include the elimination of old fashioned dark room chemicals. Which is better for the environment. The highly detailed image of your teeth on our computer screen, can be rotated, magnified, adjusted for contrast, and even color-coded for educational purposes. Further, we can store it on our computer files, thus saving paper. For insurance purposes, referrals, or patient education, it can be accurately reproduced any number of times. In summary, digital x-rays are faster, cleaner, and allow us to provide better quality care.
If you would like to learn more about the preventative services we offer, or if you want to schedule a free consultation with Dr. Shen*, please contact our practice!