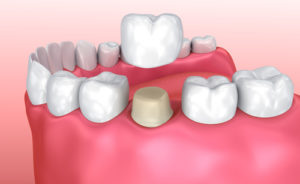 At Alpine Dental Care, we are committed to helping our patients enjoy long-term oral health in a way that promotes both the optimal function of their dentition and the aesthetic appeal of their smiles. Toward this end, our experienced implant dentist—Donian Shen, DDS—offers a variety of beautiful, long-lasting restorative dentistry solutions, including all-porcelain crowns. Porcelain crowns are natural-looking, durable, stain-resistant restorations that are meticulously crafted to blend seamlessly with the rest of your smile. These crowns are carefully and precisely matched for color and size so that you can feel completely confident in your appearance.
If you would like to learn more about porcelain crowns, we invite you to explore the informative sections below. If you are ready to schedule a consultation with Dr Shen, please contact Alpine Dental Care today!
What Are Porcelain Dental Crowns?
Porcelain dental crowns are an innovative restorative solution that can help address a range of common tooth conditions. They serve as a sort of tooth "cap," enabling them to provide both aesthetic and functional benefits. For teeth that have sustained cracks, decay, or some other type of damage, porcelain crowns can help provide structural support, enabling you to maintain your natural tooth structure and avoid bone and tissue loss. They can also help protect teeth that have undergone root canal therapy. From a cosmetic dentistry standpoint, since crowns are designed to completely cover the existing tooth structure, they can effectively mask a range of issues, including discoloration, wear, chips, and even minor gaps between the teeth.
Many other restorative treatments also incorporate crowns, including dental bridges and dental implants. The all-porcelain crowns used at Alpine Dental Care are custom-crafted for superior functionality and appearance. Whether they are anchoring a bridge restoration, topping an expertly-placed implant, or protecting a damaged tooth, Dr. Shen will do everything in her power to ensure that your new crown(s) provide you with the healthy, confident, and beautiful smile you desire.
What Are the Benefits of All-Porcelain Crowns?
Have you ever noticed a dark line around the edge of someone's tooth, close to the gum line? Or maybe you've experienced aesthetic issues with your own crowns, such as a lack of opacity that makes the crown look unnatural next to your normal teeth. These common problems are caused by the metal present in traditional porcelain-fused-to-metal crowns. These crowns do not refract light in the same way as your natural teeth, and the metal often begins showing through as time passes, especially along the gumline. The all-porcelain crowns we use here at Alpine Dental Care offer strength and stability without the cosmetic flaws associated with metal, promoting a considerably more natural look.
Porcelain crowns are used in a variety of applications, offering structural integrity and beauty to a tooth that has been compromised by dental decay or other damage. Whether you are in need of a new crown or you currently have one that you would like to replace, we are here to help. Among the numerous reasons one might need a porcelain crown, the most common are:
Extensive decay and/or root canal therapy
Cracked or chipped teeth
A tooth that is badly discolored
Crown and bridge treatment
Dental implant restorations
What Does the Process for Getting Porcelain Dental Crowns Entail?
In order to ensure the most comfortable fit and optimal function, your porcelain crown will be custom-crafted just for you. Depending on your unique dental needs, the tooth or teeth receiving the crown(s) will be treated and prepared in advance, ensuring a healthy base for your restoration. Next, an impression of your dentition will be taken and used to formulate the design for your crown(s). Your crown will be milled from a single block of strong dental porcelain that has been chosen specifically to match the shade of your natural teeth as closely as possible. Any final adjustments will be made just prior to the placement of your crown, providing a comfortable, seamless result that looks, feels, and functions just like a regular tooth.
Why Choose Alpine Dental Care for Porcelain Crowns?
Dr. Donian Shen always does everything possible to make sure that you are completely comfortable during your procedure, in addition to providing you with personalized aftercare instructions. Because porcelain crowns so closely mimic the quality of your natural teeth, there is no need to alter your regular oral healthcare routine. Simply brush and floss as you normally would, and visit our office at least twice per year for checkups and cleanings. You'll enjoy the complete comfort and confidence that comes with having a beautiful, healthy smile with all-porcelain crowns from Alpine Dental Care.
We invite you to contact our office in Cupertino to schedule a free consultation with Dr. Shen.* Explore our extensive array of cosmetic and restorative dentistry services, and discover the difference our advanced technology and expertise can make in your smile today!
Please note that our dental implant, reconstructive, and surgical procedures – as well as any urgent dental care services – are performed at our Mountain View location, which is less than 15 minutes away from Alpine Dental Care. Smile by Design has a state-of-the-art facility that features all the latest technology. Dr. Donian Shen is extensively trained in the placement of dental implants, has many years of advanced dentistry experience, and is a sustaining member of the International Congress of Oral Implantology.