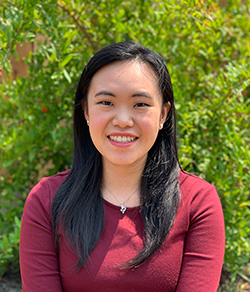 Dr. Chong is a compassionate and caring dentist who takes pride in building trusting relationships with patients and supporting them through different stages of their dental journeys. She is committed to helping patients achieve optimal oral health.
Originally from Hong Kong, Dr. Chong relocated to the Bay Area and loves the diversity and community here. Prior to pursuing dentistry, Dr. Chong earned dual degrees in Molecular Toxicology and Molecular Cell Biology from UC Berkeley, with a minor in music. After working in the field of DNA repair proteins research for some time, Dr. Chong discovers her true passion in interacting and making positive impacts in patients' lives.
Dr. Chong received her dental degree from the University of California, San Francisco. She was the recipient of the American Association of Dental Research Fellowship to conduct research in enamel matrix proteins, continuing her research interests. Upon graduation, Dr. Chong received the prestigious Dental Alumni Award and pursued advanced training with the completion of a general practice residency program.
In the past, Dr. Chong was an associate clinical professor serving the UCSF Hospital Dentistry service, overseeing care for patients with special or complicated medical needs. Currently, Dr. Chong focuses on providing family dentistry in Silicon Valley.
Outside of dentistry, Dr. Chong enjoys traveling with family, trying different restaurants, running long distances, and photographing her mischievous cat Marina.