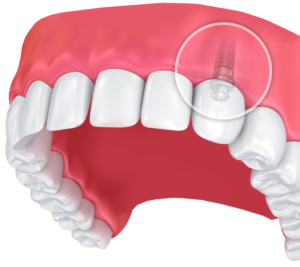 At Alpine Dental Care, we pride ourselves on providing patients with different options for treating common problems like tooth loss. For patients with missing teeth, badly damaged teeth, or removable tooth replacement prostheses (dentures, partials, or removable bridges), our experienced implant dentist, Donian Shen, DDS, can place and restore dental implants for functional, long-lasting, natural-looking tooth replacement.
What Are Dental Implants?
Dental implants are an advanced option for treating missing teeth. Through surgery, Dr. Shen can replace your missing tooth roots with specialized titanium posts which can support custom replacement teeth. The posts are placed in the jawbone where they fuse with the bone tissue through a process called osseointegration. For many patients, dental implants are considered a more attractive, functional, reliable, and comfortable option than dentures or bridges.
What Are The Benefits of Dental Implants?
Dental implants offer a number of benefits: strength, stability, attractive results, durability, comfort, and excellent function. They mimic natural teeth to the point that once the process is complete, you will feel like you've gotten your original, healthy smile back.
There are additional benefits to having dental implants placed as well. Dental implants offer not only solid support for replacement teeth; they support healthy bone density within the jaw. The roots of your natural teeth stimulate the jaw bone, keeping it strong and healthy. When tooth loss occurs, bone density begins to diminish, causing the jaw to shrink visibly over time. This can lead to the further loss of additional teeth and puts the patient at an increased risk of numerous other problems, including periodontal disease.
Fortunately, the timely placement of dental implants helps to mitigate this deterioration as the biocompatible titanium posts are fused to the jaw through osseointegration. Following the healing process – a recovery period you'll discuss with us before your procedure – your brand new prosthetic tooth will be affixed to the implanted post, completing your restoration. This custom-crafted dental crown will be fabricated specifically for you to match the color, size, and shape of your natural teeth.
Who Is a Candidate for Dental Implants?
Any patient with missing or badly damaged teeth can potentially be a candidate for dental implants. Additionally, patients who are frustrated with the comfort, aesthetics, and/or functionality of their dental restorations and/or dental prosthetics—such as fixed bridges, removable bridges/partials, and dentures—often turn to dental implants for an upgraded smile. To find out if dental implants are the right option for you, a consultation with Dr. Shen is required. During this appointment, Dr. Shen will perform a comprehensive evaluation of your oral health, jawbone structure, and tooth replacement needs to determine whether dental implants can be used to achieve your goals of a full, healthy smile. If you are a candidate for dental implants, Dr. Shen can develop a customized treatment plan that is suited to your specific needs and desired outcome.
If you need most of your teeth replaced, implant-supported dentures may be recommended. As opposed to traditional dentures, which can slip around and cause discomfort as well as embarrassment, implant-supported dentures are firmly secured within your mouth. The result is a complete set of teeth that look and feel entirely natural, allowing you to smile, speak, and eat freely and confidently.
What Does the Dental Implant Process Involve?
The process of placing and restoring dental implants is incorporated into a multi-step treatment plan that is personalized for each patient. Often, the process begins with treatments to improve oral health and restore depleted areas of jawbone to create an optimal foundation for implant placement. Next, the implant posts can be placed in the jawbone during a surgical procedure—Dr. Shen can utilize both local anesthetics and sedation techniques to provide comfort and relaxation throughout the procedure. Once the implants are placed, the mouth and jawbone must fully heal before the custom implant restorations can be attached. Dr. Shen utilizes the latest technology to create impressions and works collaboratively with a trusted dental lab to fabricate implant crowns, bridges, and dentures that provide patients with beautiful, long-lasting new smiles. When the implant posts have fused with the jawbone and the restorations have been fabricated in the lab, Dr. Shen can then securely place the restorations atop the implants. She checks the fit, appearance, and function of each restoration to ensure satisfying results.
If you want to learn more about the dental implants process at Alpine Dental Care, please contact us. Our friendly and knowledgeable team is happy to answer questions and to help you schedule a $80 non-refundable consultation with Dr. Shen.* We will happily discuss every aspect of the treatment process with you and perform a complete examination to determine whether or not you're currently a candidate for implants. Even if your jaw bone isn't currently strong enough to support implants, don't worry; there are ways to build up the bone and make dental implants a real possibility. We look forward to becoming your partner in your journey toward a renewed, rejuvenated, and healthy smile!