For those with an infected root canal due to a damaged or decaying tooth, pain may be shooting through your mouth. To ease this discomfort and remedy the infection in your tooth, root canal therapy can be a great solution. If a tooth begins to deteriorate, the inner pulp chamber can become infected. Root canal therapy serves as an effective option, often referred to as simply a "root canal." Root canal therapy falls under emergency dentistry or urgent dental care, and an infected tooth should be treated as soon as possible to avoid further complications. Our team at Alpine Dental Care is trained and experienced in providing care for patients who are in need of root canal therapy.
What Is Root Canal Therapy?
Root canal therapy can be the ideal solution for relieving pain in your teeth from an infection. This treatment can remedy unwanted and excruciating pain from the infected tooth. By burrowing beneath the target area and into the root canal, excess buildup of bacteria and harmful tissue can be eradicated. Root canal therapy is truly the only tooth-saving solution to prevent an extraction and treat the infection. A root canal can also prevent the need for restorative dentistry treatments such as porcelain crowns and dental bridges later down the road by preserving the tooth.
Do I Need Root Canal Therapy?
Candidates for root canal therapy may experience pain when biting or chewing food, extreme sensitivity, extra discomfort when drinking hot or cold drinks, constant tooth aching and throbbing, bad breath or a bad taste in the mouth, overall tenderness and swelling, discoloration of gums near affected areas, bumps or pimples appearing on the gums, and even fever-like symptoms. If you experience any of these symptoms, you may be in need of root canal therapy and should see a dentist as soon as possible to assess your condition.
How Is the Root Canal Procedure Performed?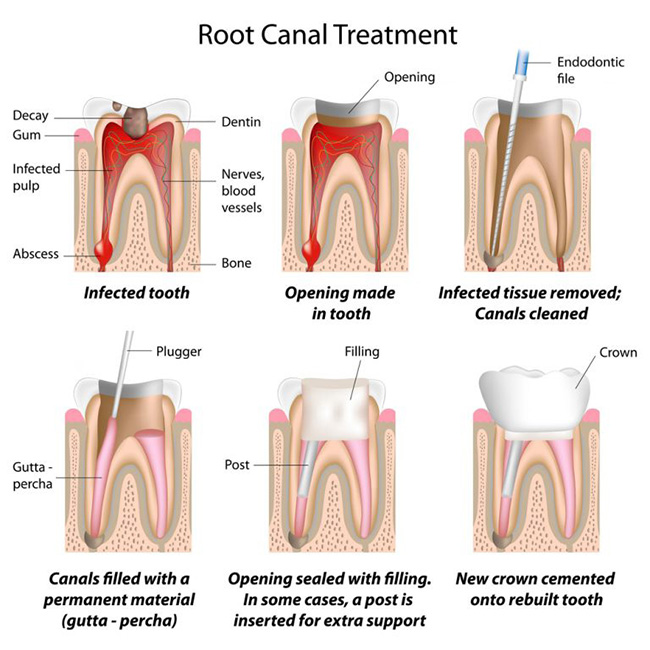 A root canal procedure involves removing dangerous and harmful pockets of bacteria and tissue from inside the tooth. This allows for the root canal and pulp chambers to be strategically cleaned out. This process reduces ongoing discomfort and pain while protecting patients from future infection. After the root canal is cleared of bacteria, the tooth is filled and then sealed.
Initially, our dentist will numb the targeted area to help keep you as comfortable as possible during the procedure. Next, we will sanitize the root canals and pulp chamber by clearing out infected pulp and bacteria. The root canals are then shaped and filled. Patients may also be prescribed antibiotics to assist in eliminating existing infections or helping prevent any potential future infection.
Contact
If you have serious pain in your mouth and suspect you may have a tooth infection, contact us today! Our team will determine if you are in need of root canal therapy and develop a comprehensive plan to address your needs.