>
Your Emergency Dentist in Cupertino Discusses Common Dental Emergencies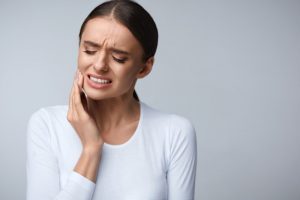 You were enjoying lunch with your coworkers, when you felt that telltale crunch back on your molar. Now that you're back at the office, your tooth is starting to ache. Is this a dental emergency? Should you contact your dentist? Dental emergencies happen in different ways, and some are more frightening than others, but a good rule of thumb is to always contact your emergency dentist in Cupertino if you have pain, or what you think might be an emergency situation. Here are some common dental emergencies, and what you can do until you reach our office.
Common Emergency Situations
In stressful situations, it may seem like a good idea to head to the nearest hospital emergency room; however, it's important to note that hospitals are not equipped to handle dental emergencies and they won't be able to give your teeth the care and attention they need. You will likely end up back at your dentist anyway, so save yourself time, money, and stress by calling your dentist first.
Some common emergencies your dentist will handle are:
Soft tissue injuries: You can help by stopping the bleeding with a cold compress, then contact your dentist for further instructions.
Broken or lost restorations: This will need repair in order to protect your tooth. Call your dentist right away.
A toothache: If your tooth is causing severe and constant pain, it may be abscessed or infected. This will need immediate attention as dental infections will not go away without treatment. Root canal therapy may be able to preserve your tooth if you contact your dentist right away.
A chipped or broken tooth: If your tooth is broken, gather the pieces and get to your dentist as soon as possible. Small chips may not require immediate attention but should be smoothed at some point to avoid irritation to your soft tissues.
A knocked out tooth: If your tooth has been knocked out, it is critical for you to get to your dentist as soon as possible as they have the best chance of saving your tooth the quicker they can treat it. Try not to touch the tooth too much and place it back in its socket if possible for transport. You can also use milk to transport the tooth.
Contact Alpine Dental Care
If you or a loved one is having a dental emergency, we provide the care you need at Alpine Dental Care. Don't hesitate to call us with questions as we are happy to provide instructions over the phone if possible.
We offer convenient morning and evening appointments and we'll see you as soon as possible.
< Previous Page
Next Page >