How Often Should You See Your Cupertino Dentist?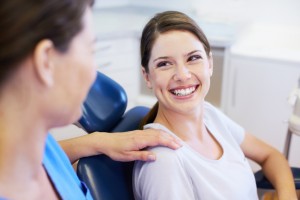 With the end of the year upon us, it's important to ensure that you've completed your six-month cleaning and checkup appointments. These visits are your best defense against dental issues such as oral cancer, tooth decay, and periodontal (gum) disease. Dr. Shen and Dr. Hotz discuss how often you should see you Cupertino dentist, and the importance of routines checkups.
Six-Month Dental Visits
A few things happen at your routine checkups that are important for preventing dental issues throughout the year. First, our hygienists will clean and remove the excess plaque buildup from your teeth that causes cavities and gum disease.
We understand that optimum oral health begins at home, so they will also take the time to educate you about your oral health, and teach you proper brushing and flossing techniques so you can make the most of your home care routine.
Next our doctors will screen you for oral cancer, tooth decay, and periodontal disease so we can detect these issues in their earliest stages, which in turn allows you the best opportunity for recovery with less invasive treatment procedures. We can detect these problems much earlier than you can because there often aren't many symptoms or much pain associated with them in the beginning.
Periodontal Health Affects Overall Health
Thanks to emerging studies, we understand that periodontal disease can directly contribute to other health issues in the body such as:
Diabetes
Cardiovascular disease
Low birth weight or preterm birth
Stroke
High blood pressure
This is because the bacteria that causes gum disease can enter into your bloodstream, travel to other areas of the body, and contribute to the inflammation that causes these concerns, and vice versa. Being proactive about maintaining your oral health, means that you're also promoting excellent overall health and well being.
< Previous Page
Next Page >