The Signs and Symptoms of Gum Disease in Cupertino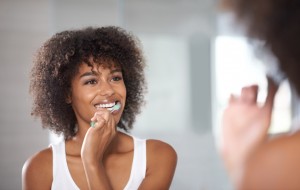 Brushing your teeth has never been uncomfortable, however lately you've been noticing blood in the sink when you brush. This is strange because your gums look a little red, but they don't hurt. Nothing to worry about – right? Wrong! You should contact Alpine Dental Care and schedule a routine cleaning and exam. These are the early signs and symptoms of gum disease in Cupertino.
What is Gum Disease?
Also known as periodontal disease, gum disease is essentially an infection of the soft tissues and bone that surround and support your teeth. It can be tricky to determine if you have gum disease because there's typically no pain early on, and not many symptoms to look for. A few of the early indicators are:
Gums that are red and swollen
Chronic bad breath that won't go away
Gums that bleed when you brush your teeth
Routine dental appointments with your trusted team at Alpine Dental Care are your best line of defense against gum disease because we screen for it during every checkup. Believe it or not, Dr. Shen and Dr. Hotz can detect gum disease even earlier than you can, which ensures that you have the best chance of treating it with the least invasive treatment.
Gingivitis
This is the first stage of gum disease in which you'll notice the early indicators. This phase can typically be managed with a thorough professional cleaning and improvements to your home care routine. Many patients are even be able to reverse their gingivitis, so this is why it's important to be proactive and visit Alpine Dental Care right away.
Periodontitis
This is the advanced stage of gum disease, when the damage starts to occur. In this stage the infection begins to destroy your soft tissue and bone, which eliminates the support system for your teeth. Periodontal disease is the leading cause of tooth loss in American adults. This stage will require a deeper cleaning to remove infection and bacteria from below the gum line, possible antibiotic therapy, and surgery in some cases.
The good news is that Alpine Dental Care is well equipped to help you manage any stage of gum disease you may be facing. Gum disease affects more than half of American adults in some form, so we encourage you to contact our office to schedule your next cleaning and checkup appointment. Your oral health is too important to risk!
< Previous Page
Next Page >