What Will Happen if You Skip Your Routine Dental Visits? Your Dentist in Cupertino Answers
Blog /

What Will Happen if You Skip Your Routine Dental Visits? Your Dentist in Cupertino Answers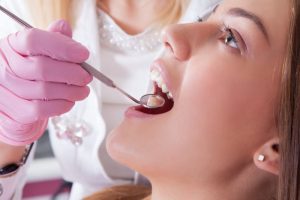 Many people feel that it's unnecessary to visit the dentist if their teeth are not hurting. This is actually a myth because dentistry is all about prevention. Unlike your medical doctor, who sees you when you're sick or injured, your dentist needs to see you every six months in order to help you avoid many dental issues such as tooth decay, gum disease, and oral cancer. Your dentist in Cupertino explains.
Dentistry is about Prevention
Your preventive appointments every six months are so important because by the time you start to experience dental pain, it's likely the damage is already done. Most dental issues such as gum disease don't cause a lot of pain at first, so it's important to screen for them regularly in order to give you the best opportunity to deal with them with less invasive treatment procedures.
What Happens at My Six-Month Dental Visits?
During your six-month dental appointments, your dentist will screen you for issues such as tooth decay, cavities, gum disease, and oral cancer. This is also a great time for you to discuss any concerns or questions you have about your oral health with your dentist.
Your hygienist will also clean your teeth and remove the excess plaque and tartar buildup that hasn't been removed with daily brushing. Your hygienist is a great resource to offer suggestions on proper brushing and flossing techniques so you can maximize your home care routine.
The Oral Systemic Link
Recent information tells us that taking good care of your oral health is more important than ever. This is because we now understand the link between periodontal health and your overall health. It seems that the same bacteria that causes gum disease has been found to contribute to other health issues such as heart disease, high blood pressure, diabetes, stroke, and vice versa.
This tells us that successfully managing your oral health means that you are also looking out for your overall health and well-being. Regular visits with your dentist in Cupertino will help you avoid bigger, more painful, and more expensive problems in the end.
Is it time for your next dental cleaning and checkup? Give your dentist a call today to schedule.
< Previous Page
Next Page >