Your Dentist in Cupertino Answers Questions About Invisalign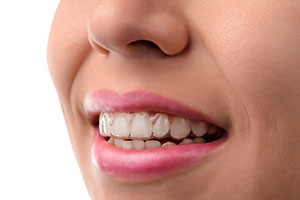 You walk away from your new client with a small smile. The meeting went well, and you hope they don't think you're rude or unfriendly. You wish that you could smile with confidence, but you feel embarrassed about your crooked teeth. You've thought about straightening your teeth, but the idea of wearing metal braces seems just as unappealing as your misaligned smile. What if your dentist in Cupertino could help you align your teeth with discretion? Invisalign allows us to do this, and here are some common questions about this revolutionary treatment.
How Does Invisalign Work?
Invisalign utilizes clear plastic aligners that apply gentle pressure to your teeth to safely and gradually move them. Aligners should be worn at least 22 hours per day and changed every 2 weeks.
Are There Restrictions to My Diet During Invisalign Treatment?
Because aligners can easily be removed, there are no restrictions to your diet required. You'll also be able to brush and floss normally, which means there are no changes to your home care routine either.
Will Wearing the Aligners Affect My Speech?
Wearing aligners does take some getting used to, but it should only take a day or two to adjust to talking with your aligners in. If you have a speech or presentation, aligners can always be removed for the duration.
How Long Does it Take to Straighten My Teeth With Invisalign?
Each case varies, however most Invisalign cases take anywhere from 12-18 months to complete. Invisalign typically requires fewer visits to your dentist than traditional braces need.
What Happens When Invisalign is completed?
Once your Invisalign treatment is complete, you'll wear a retainer at night to keep your teeth properly aligned. The retainer is removable and comfortable to wear while you sleep. You'll need to wear your retainers every night in order to maintain the alignment accomplished by Invisalign.
Who is a Candidate for Invisalign?
While Invisalign in Cupertino works well for most patients, it can't correct complex bite misalignment. Your dentists at Alpine Dental Care can determine if Invisalign is right for your needs with a thorough examination, x-rays, and photos of your teeth. If you do move forward with Invisalign, with 3D imaging we can even show you what your newly aligned smile will look like when your treatment is completed!
< Previous Page
Next Page >