The Advantages of Invisalign in Cupertino Over Traditional Braces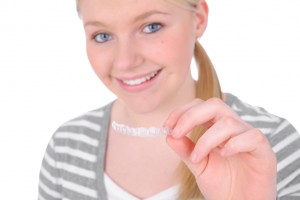 Living with crooked and misaligned teeth definitely takes a toll on your confidence. You may feel embarrassed about the appearance of your teeth when you smile or talk to others. Did you know that crooked teeth are also affecting your oral health? Maybe you've considered straightening your teeth, but you'd rather not wear bulky metal braces. Alpine Dental Care is here to help, and here are some of the advantages of Invisalign in Cupertino over traditional braces.
Misaligned Teeth and Oral Health
Misaligned teeth actually have a negative impact on your oral health. They're harder to brush, floss, and keep clean, which increases your risk for issues such as gum disease and tooth decay. A misaligned bite can contribute to headaches and a painful joint disorder known as TMJ. It also puts your teeth at risk for fractures and other damage. Straightening your teeth is not only great for your confidence and self esteem, it's also beneficial for your oral health.
What is Invisalign?
Instead of using the metal brackets and wires of traditional orthodontics, Invisalign utilizes clear plastic aligners that are designed to apply gentle pressure and gradually straighten your teeth over time. Aligners should be worn 20-22 hours per day and changed every two weeks. Most Invisalign cases can be completed in 12-18 months, making them an ideal option for busy adults or teens who want to straighten their teeth with discretion.
What are the Benefits of Invisalign?
Besides the fact that your aligners are virtually invisible, Invisalign offers many other benefits for patients. Aligners are comfortable, easy to wear, and they don't interfere with your normal daily activities. Because they can be easily removed for eating and brushing, there are no restrictions to your diet, or changes to your oral hygiene routine at home as there would be with traditional braces.
Invisalign is very efficient, and as long as you're compliant, treatment times are often shorter than traditional braces. While you'll still have to visit our dentists regularly to ensure that treatment is progressing as planned, appointments are typically not as frequent as traditional orthodontic visits.
Don't let crooked or misaligned teeth hold you back from living the life you deserve any longer! Contact our office today to learn more about how our trusted team at Alpine Dental Care can help you.
< Previous Page
Next Page >