Tips For Maintaining Optimum Oral Health From Your Dentist in Cupertino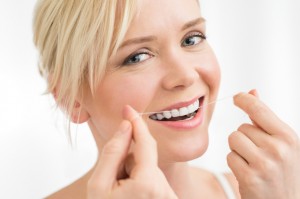 With our understanding of how oral health affects your overall health, we now know that there's never been a more important time to take charge of your oral health. Periodontal disease has been linked with other serious health concerns such as diabetes, cardiovascular disease, and stroke, so it's very important to see your dentist every six months for screenings. Did you know however, that there are a number of things you can be doing at home to promote good oral health? Here are some tips for maintaining optimum oral health from your dentist in Cupertino.
Switch to an Electric Toothbrush
An electric toothbrush does all the hard work for you, while timing your session to ensure that you're completing the recommended two minutes of brushing. Electric brushes are easier on your gum tissue, and hygienists report that they remove more plaque buildup than manual brushing. An electric toothbrush is a small investment to make in optimum oral health.
Eat More Fruits and Veggies
Don't Forget to FlossFlossing at least once per day is critical for removing plaque from in between your teeth. Believe it or not, you can actually get cavities in between your teeth. Flossing also helps keep your gum tissue strong and healthy, without adding that much extra time to your nightly routine.
Use an Antibacterial Mouth Rinse
Adding an antibacterial mouth rinse to your daily routine adds another level of protection from bacteria, it's quick and easy, and as a bonus it also promotes fresh breath. Be sure to consult your dentist however, before choosing your mouth rinse because unfortunately they're not all created equal.
At Alpine Dental Care, our goal is to help you achieve and maintain a healthy and beautiful smile for a lifetime. We like to see you every six months to help you prevent issues such as periodontal (gum) disease, oral cancer, and tooth decay from happening in the first place, and we believe regular cleaning and checkup appointments are the way to do this. Your health is too important to risk, so give us a call today to get your next appointment scheduled.
< Previous Page
Next Page >