>
Dentist in Cupertino Explains the Benefits of Dental Implants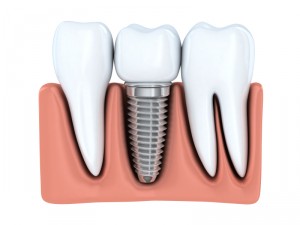 How would it feel if you could walk into your favorite restaurant and order whatever you want? These are the kinds of things we take for granted each day until we're faced with a compromised tooth. If you've lost your tooth, or it's not in good health, it has a huge impact on your daily life. Your confidence and nutrition are affected, but so is your oral health. Without a replacement tooth, you'll begin to lose bone density and your healthy teeth may begin to shift. The good news is that there are solutions for restoring your smile, and your dentist in Cupertino explains the benefits of dental implants.
How Does an Implant Restore My Tooth?
The secret behind the success of dental implants is the fact that they replace both your root and your tooth. Replacing your root helps to protect the health of your bone by keeping it healthy and stimulated, while your new tooth will keep your teeth from shifting. A titanium post is placed into your bone during surgery, and because it's biocompatible material, it will naturally integrate with your bone over time. Your implant will heal for 3-4 months before we place your crown.
Once the healing is completed, we'll customize a porcelain crown to attach to your implant and restore your tooth. Your crown is designed to mimic your tooth so you'll be able to eat, chew, talk, and smile with ease.
Is an Implant Worth the Investment?
A dental implant is one of the smartest investments you can make in your oral health, and this is because it not only protects your oral health, it also offers great longevity. You'll be able to brush and floss your implant with ease, making it very simple to care for. With an excellent home care routine and regular dental checkups with your doctors at Alpine Dental Care, your implant can potentially last for a lifetime.
< Previous Page
Next Page >