Find a Dentist in Cupertino Who Can See the Whole Family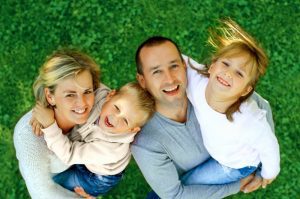 schedules to manage. Anything that saves time and makes your life easier is welcome. That's why finding a dentist who can care for the entire family is so important, because it saves you time, money, and stress in the long run. If you are looking for a dentist in Cupertino for the entire family, here's why you should check out what Alpine Dental Care has to offer.
A Welcoming Environment
It's important that your family feels welcome at the dentist you choose, especially your children. These first visits with the dentist have the potential to either set them up for a lifetime of successful dental appointments, or fear or anxiety about the dentist.
At Alpine Dental Care, Dr. Shen and her team strive to make children feel comfortable and welcome by taking the time to build a rapport with them. We are also very clear about what we're doing throughout the visit so your child will feel completely at ease.
We also offer music, television, and DVD entertainment in all of our treatment rooms so your child can enjoy their favorite program during their procedure.
Comprehensive Services for Every Member of the Family
In addition to taking great care of our youngest patients, Alpine Dental Care offers a wide range of services for adults. Whether it's a preventive cleaning and checkup that you need, a tooth restored or repaired, or you'd like to make improvements to your smile, Dr. Shen and her team have got you covered.
We also offer services for elder family members who may be in need of periodontal care or tooth replacement. If you have a loved one who currently wears dentures that don't fit properly, Dr. Shen is happy to discuss options for new appliances or implant-supported prosthetics, which provide a more secure and stable fit.
Convenient Dental Care You Can Rely On
We know your schedule is busy, and that's why we offer morning, early evening, and Saturday appointments. At Alpine Dental Care, we want to fit easily into your schedule, rather than you having to accommodate ours.
If you're ready to get appointments scheduled for the family, give us a call today!
< Previous Page
Next Page >