>
Don't Ignore The Warning Signs of Gum Disease in Cupertino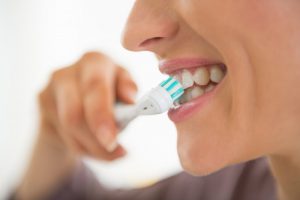 You've been noticing blood in the sink the past few days when you have brushed your teeth. None of your teeth are hurting, so you wonder if you should call your dentist? The answer is – yes! This is actually the ideal time to call your dentist since it's likely you are experiencing the first stage of periodontal (gum) disease. With early detection, periodontal disease can often be successfully managed with less invasive procedures, so be sure to take action now in order to prevent gum disease in Cupertino!
Gingivitis – The Early Stage of Gum Disease
Gum disease is essentially an infection of the soft tissue and bone that support your teeth. It's caused by excessive plaque buildup that separates the gums from the teeth, allowing harmful bacteria below the gum line. Some of the early signs of periodontal disease are:
Gums that appear irritated, red, and swollen
Chronic bad breath that won't go away
Gums that bleed during brushing or flossing
If you notice these symptoms, contact your dentist right away for a cleaning and checkup. You may be suffering from gingivitis. The good news is that gingivitis can often be managed and even reversed in some cases with a thorough professional cleaning and improvements to your home care routine.
Periodontitis – The Advanced Stage of Gum Disease
If your gum disease progresses to periodontitis, you may start to notice gum recession, or that your teeth feel mobile. Periodontitis requires a deeper cleaning called scaling and root planing to reach beneath the gum line and remove the plaque and tartar buildup that is causing your infection. Some cases may require antibiotic therapy, or even surgery.
If your condition is left untreated, it will eventually destroy your bone and soft tissues, which eliminates support for your teeth. Periodontal disease is actually the leading cause of tooth loss in American adults.
< Previous Page
Next Page >