How to Determine if You Need a Root Canal in Cupertino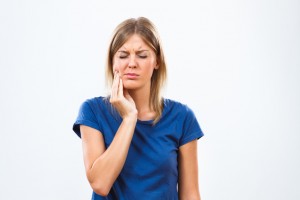 You've been noticing a sensitive twinge in your tooth when you drink your morning coffee. It typically went away quickly, so it didn't really concern you that much. This went on for a few weeks until suddenly the pain was constant. You tried some ibuprofen, but that only helped for a short time. The next thing you knew your tooth had you up at night. It's time to contact the dentist because you may need a root canal in Cupertino!
Why Do I Need a Root Canal?
When decay or bacteria reaches the pulp, or nerve of your tooth it becomes infected and you begin to feel pain. This happens when tooth decay progresses into your tooth, or your tooth sustains a fracture or injury. When your tooth is infected you'll experience constant pain that can become quite debilitating. An infection will need treatment otherwise it will get worse and could even lead to tooth loss.
How Does Root Canal Therapy Help?
During root canal therapy, our doctors will remove the infected tissue inside your tooth from an access hole in the top. This will also alleviate your pain. Your tooth is then given time to heal, and then you'll return to our office to have it strengthened with a permanent filling or dental crown.
Does This Procedure Hurt?
Root canals have gained a bad reputation in the past because they're associated with pain. It's actually your infection causing the pain however, while root canal therapy is eliminating infection and discomfort.
At Alpine Dental Care, we use the best dental anesthetics to ensure that you don't feel anything during your procedure, and anesthetics also help to alleviate your discomfort right away. Our dentists are experienced and gentle so you can rest assured that you're in good hands for your root canal therapy. Most patients are pleasantly surprised at how smooth and comfortable a root canal can be, and they appreciate the relief from their pain.
How to Prevent Root Canals
Many root canal procedures can be successfully avoided when you're proactive about your oral health. For example, when you started to feel that sensitivity it would have been an ideal time to contact your dentist in Cupertino. They might have been able to treat your tooth with a filling before it became infected.
Routine preventive care appointments every six months can detect many issues like tooth decay in their early stages so you can treat the condition with a less invasive procedure.
< Previous Page
Next Page >