Your Dentist in Cupertino Recommends Foods to Eat for Healthier Gums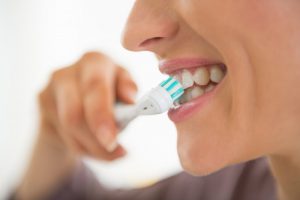 Noticing blood in the sink when you brush can be alarming, especially when you don't feel any pain. It may not seem like a big deal. However, it's likely indicating gingivitis, which is the first stage of periodontal (gum) disease and affects more than half of American adults. Your dentist in Cupertino has solutions, and tips on what you can eat to develop healthier gums.
What is Gum Disease?
Gum disease is an infection of your soft tissues and jawbone that occurs when excessive plaque and bacteria separate your gums from your teeth and descend below the gum line. Because your soft tissue and bone are the main support system for your teeth, gum disease in Cupertino that is not successfully managed will eventually lead to tooth loss. In fact, this disease is the leading cause of tooth loss for adults in the United States.
Periodontal disease is also directly related with other health issues in the body such as diabetes, heart disease, and stroke. This is because the bacteria that cause gum disease can actually enter the bloodstream and travel to other areas of the body where it contributes to the inflammation causing these issues. This is known as the oral systemic connection.
What Can I do to Prevent Gum Disease?
Your six-month cleaning and checkup appointments with your dentist are truly your first line of defense against gum disease. Your hygienist will clean your teeth and remove the plaque that contributes to it, and your dentist will screen you for it by measuring the pockets around your gums.
Besides avoiding sugary foods and beverages, there are also additions you can make to your diet to promote good periodontal health such as:
Green tea – This tea has antioxidants which helps reduce the inflammation in the body that contributes to gum disease.
Onions – They help to neutralize bacteria in your mouth.
Dairy Products – Milk, cheese, and yogurt are high in calcium, which strengthens bone and is good for your gums.
Carrots and Apples – These veggies and fruit are high in fiber, which helps to increase saliva flow and washes away food particles and debris in your mouth.
Leafy Greens – These are high in fiber and vitamin C, which helps to increase saliva flow and reduce inflammation.
Contact your dentist today to learn more about gum health and schedule your next cleaning and checkup.
< Previous Page
Next Page >